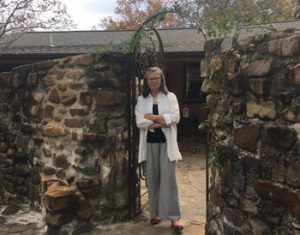 Step into Ingrid's world, where the setting is as unique as the art it contains.  In fact, you might find that the property and structures are as much art as the art itself. Located in rural Oklahoma down a country road you will probably think could never lead to an elegant art gallery, yet it does.

Upon arrival you may still wonder, as it appears to be a country home or small farm, with animal habitats for goats, rabbits and chickens.  The rock structure was built by Ingrid, with bits and pieces of sculpture worked in.  Enter the courtyard and then step inside,  where your eyes will feast on amazing fine art sculptures and paintings arranged in such a way that you'll feel as though you are at home.

The walls are rich with beautiful paintings by very accomplished artists, sculptures and pottery are arranged artfully throughout.  There is much to see, yet it all lives together in perfect balance and harmony.  Feel free to wander throughout and perhaps you will find the piece that speaks to you, and arrange to take it home.

You might see the table set for a private tour or event, and it's just as stunning as the art that surrounds it.  Step into the back room and see the view out the large windows of the patio and the Kiamichi River below.  When weather permits, meals can be served outside, letting visitors enjoy the fresh country air while feasting on the fare that Ingrid provides.

For gallery hours or to plan your own private event or workshop, click here.
Unable to visit? You can view and purchase pieces online here.